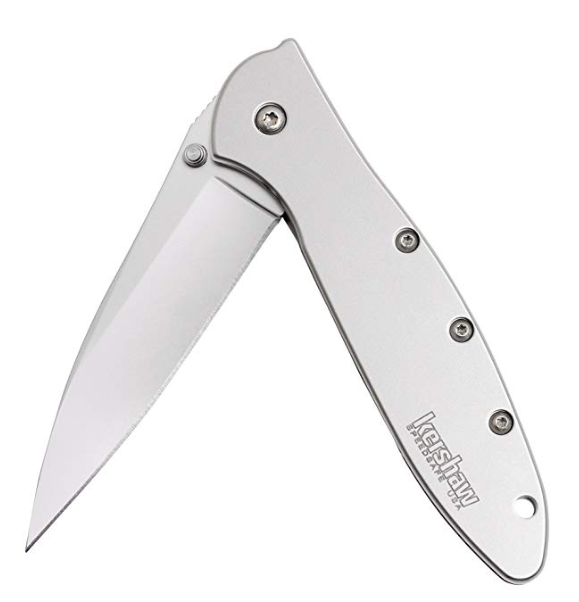 Best Knife for Everyday Carry
Our pick for the best knife for everyday carry: Kershaw Leek.
I bring a knife with me no matter where I go. The only places I go without a knife are those where someone has told me I can not carry one. The two instances this has happened are when I was boarding a plane and when I was in a casino. I know not to bring a knife to the airport (although I forgot to disarm once until I got to security). As for the casino, I didn't know I couldn't carry a pocket knife clipped to my pocket there and I was told to leave and get rid of it before coming back. Otherwise, you have to carry a knife. There's nothing worse than needing to cut something real quick and not having any type of blade on you.
To ensure you always have a knife, it's nice to have a go-to, everyday carry (EDC) option. My current favorite is the Leek by Kershaw. This smallish folder was designed by Ken Onion and is a great EDC knife with its 3", slim blade. The knife is very light at 3 ounces (85 grams) so it usually goes entirely without notice – until you need it.
When the opportunity to use it comes up, the Leek is an easy knife to use one-handed as it comes with Kershaw's SpeedSafe assisted opening feature. I couldn't count the number of times I've only had one hand free and have easily slipped the Leek off the top of my pocket and opened it with my index finger. The Leek also has a frame lock to keep it open when using it, preventing an accidental closing and the fun that comes along with that.
The Kershaw Leek has a blade made of Sandvik 14C28N steel. This has been great so far, but I caution you that the blade is still a thin one. It's not meant for heavy prying. I accidentally broke the tip off of mine, but Kershaw offers blade replacement. So a couple weeks and $10 later, I had my Leek back with a brand new blade.
So if you're looking for the best knife for everyday carry, check out the Leek by Kershaw. You can get it on Amazon.com by clicking here: Kershaw Leek.